It's not magic, it's our advanced Artificial intelligence (AI)! So less Harry Potter, and more R2D2.
Our proprietary image recognition AI reads images of floor plans, line drawings, or sketches, and generates real-time 3D designs.
"Magically" watch your scene extrude into a fully editable, customizable, and addictive 3D sandbox.
Easily map out your existing room using our Augmented Reality (AR) feature.
Simply point your device camera to a corner, tap a wall, tap a door opening, tap a window opening… boom! It's that easy.
Walls, windows, doors...oh my
Simply add, edit, delete, merge, or move any wall, window, or door.
The real-time 3D editor is allows you to clean up your scene and get it to "your" 100%
Once you have your floor plan laid out, it's time to add furniture, appliances, decorations, and more.
Depending on the model, you can move, rotate, resize, and/or snap it to a wall – using just your finger.
The models are scaled accurately and provided in a simple visual manner to help you plan your space.
A design bubble is where you can plan and organize in 3D.
They act as "smart icons" or "digital sticky-notes" that allow you to insert various types of information.
Design bubbles are attached to every model, and you can also drop "moveable" bubbles anywhere and get creative!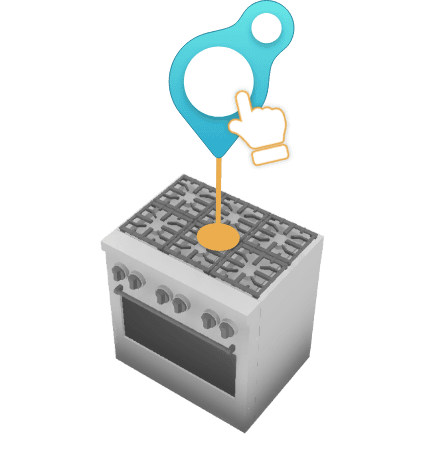 Add inspirations, products, colors, styles, and any photo you can find to help you make a decision for your plan!
Upload a photo
Take a photo
Insert a weblink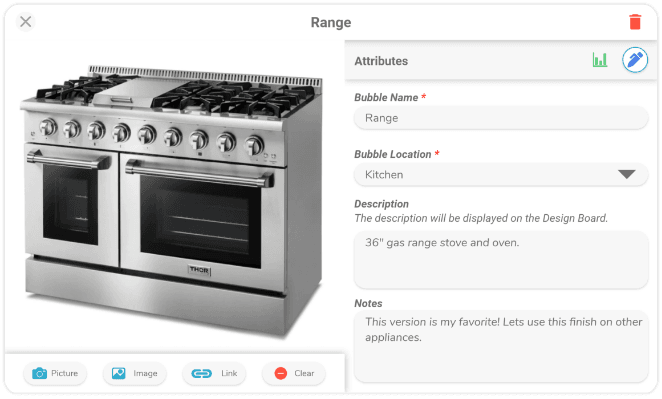 The Design Board provides a single snapshot of all your selections and ideas in one simple place.
You can easily save or share a PDF of your Design Board with anyone!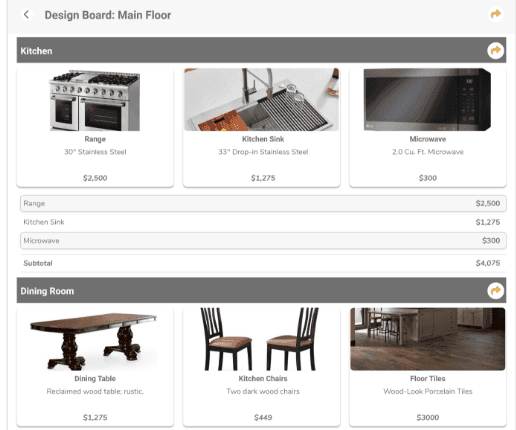 Our "rooms" feature auto-detects all the enclosed rooms in your project and in real-time. Try it! Each room shows square and cubic feet. You can update the room name and room type.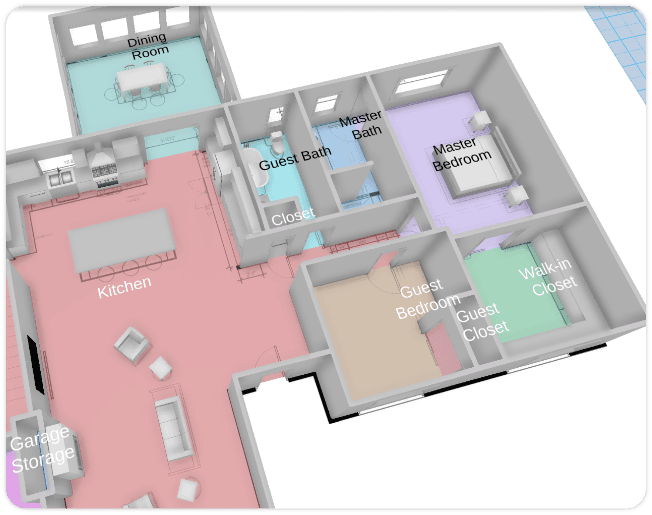 First Person (POV) Walkthroughs
One of the coolest features! Create and experience an instant walkthrough of the scene you just created.